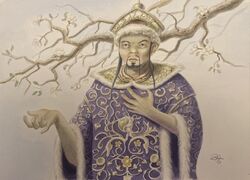 Ide Michisuna was a courtier, former student of Ide Tadaji and sensei of Moto Genki.
Legacy of the Naga
Edit
Michisuna was the guard commander of the unicorn that guarded great golden pearl in Shiro Shinjo in 1145 when Akasha hatched from the pearl. [1]
Station in Ryoko Owari
Edit
After Toturi Tsudao proclamated herself as Empress Toturi II in 1159 with capital in Kyuden Seppun, the rest of the heirs planned to declare their own claim upon the Imperial Throne, but in different cities. Hantei Naseru elected Ryoko Owari as his headquarters, and many clans had begun relocating their most skilled and influential courtiers and ambassadors to the city. For the Unicorn came Michisuna with his yojimbo Moto Genki and Moto Chen, with Shinjo Shono as his second. [2]
Unicorn Dishonored
Edit
One day Chen in the Naseru's Court accused the Imperial Chancellor, Bayushi Kaukatsu, of sponsoring an illegal and dishonorable act without any proof. Kaukatsu ordered left to leave Journey's End City, and requested a Unicorn restitution for the insult. Upon Shono's request, Kaukatsu let the Khan could resolve satisfactorily the incident and got the Shinjo family's favor. Michisune hardly maintained the Unicorn's influence in the city. [2]
Soshi Eiji
Edit
Michisuna gifted Soshi Eiji a heavy fur cloak. Eiji did not appreciate the cloak until he was stuck in a blizzard on his way to Kyuden Doji in 1158, when it most likely saved his life. [3]
External Links
Edit
References
Ad blocker interference detected!
Wikia is a free-to-use site that makes money from advertising. We have a modified experience for viewers using ad blockers

Wikia is not accessible if you've made further modifications. Remove the custom ad blocker rule(s) and the page will load as expected.