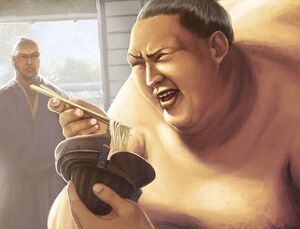 Ichiro Otani, the Stone Breaker, was a Sumai Master of the Badger Clan who lived in the last years of the 12th century. [1]
Appearance
Edit
Otani was nicknamed the Stone Breaker, a massive man who preferred to live in solitude within the wilderness, practicing his unarmed kata on the stones themselves. [2]
Tani patrolled of the northernmost mountains of Rokugan's borders, and was famous for his undefeated record in the popular sumai contests of the Badger Clan. He had been summoned away to serve the Alliance of Minor Clans on several occasions, but he always returned. [2]
Somehow he was lost to the Shadowlands corruption. [3]
External Links
Edit
References
Ad blocker interference detected!
Wikia is a free-to-use site that makes money from advertising. We have a modified experience for viewers using ad blockers

Wikia is not accessible if you've made further modifications. Remove the custom ad blocker rule(s) and the page will load as expected.