Ichiro Munemitsu 
Born:
Unknown 
Died:
710
People
Ichiro Munemitsu was a bushi and yoriki of the Badger Clan.
Hunting Jama Suru
Edit
In 709 [1] along with fellow Emerald Magistrate Isawa Shokan and his other yoriki, Munemitsu hunted down Jama Suru in Kuni Nikoma's laboratory. [2] [3]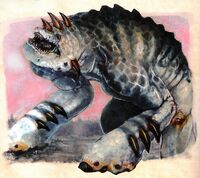 One year later, [1] these yoriki were hunting down the now corrupted Shokan into the Shadowlands, but the whole team was killed by their old companion, now calling himself Shokansuru and their souls were captured. Many years later in the twelfth century, Shokansuru used Munemitsu's soul to summon the fearsome Munemitsu no Oni. [2]
References
Ad blocker interference detected!
Wikia is a free-to-use site that makes money from advertising. We have a modified experience for viewers using ad blockers

Wikia is not accessible if you've made further modifications. Remove the custom ad blocker rule(s) and the page will load as expected.