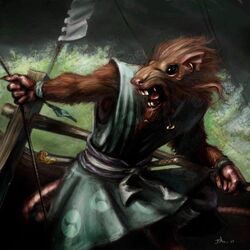 I-m'jek was a nezumi bushi of the Chipped Tooth Tribe and the One Tribe.
The Deathless Edit
In 1169 Hida Sadaharu was chasing pirates in the Osaku Route when he came across the Deathless, which the Lion Clan had given to the Nezumi who crewed it. It was now captained by I-m'jek, who was himself chasing the same pirates after being hired by the Mantis Clan. Sadaharu devised a plan and together he and I-m'jek defeated the pirates. Sadaharu sent the Nezumi back to the Mantis with a note affirming that the Nezumi were responsible for destroying the pirates. [1]
Library of the Kitsu discovered
Edit
In 1170 I-m'jek was visited by Wikki'thich-hie Ksoo'ma, formerly known as Hiruma Kazuma. The transcendent told him the location of the ancient Library of the Kitsu race, inside an non-inhabitated island. The nezumi recalled Ikoma Otemi an sailed to the island onboard the Deathless. The Lion claimed it for their own, and named Shima no Quehao. [2]
External Links
Edit
References
Ad blocker interference detected!
Wikia is a free-to-use site that makes money from advertising. We have a modified experience for viewers using ad blockers

Wikia is not accessible if you've made further modifications. Remove the custom ad blocker rule(s) and the page will load as expected.