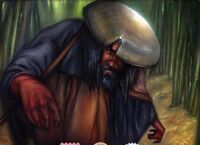 Hyobuko was a shugenja and Fudo Cultist monk. He sought an ancient relic. [1]
Hyobuko was a member of the Order of Fukurokujin who embraced the teachings of Fudo, an ancient and censored prophet of the Brotherhood of Shinsei. In the Second City he began to gather followers who embraced the Fudoism, as Yoritomo Tarao, and after fifteen years there, he left the city to join the court of a Dragon lord. [2] In one of his trips he indoctrinated Gemmei, a nun of the Order of Kaimetsu-uo. [3]
Madness of P'an Ku
Edit
In 1198 Hyobuko was living again in the Colonies, in a small village alongside Gemmei. They had discovered a threat that could endanger the Empire, and exposed one of its victims, Oda, the owner of a tea house. They knew this man would become mad, leaving a trail of corpses in his wake. They called Yoritomo Nakoshi, and convinced him to take action. The Mantis killed Oda while the heimin was preparing poisoned tea. [4]
External Links
Edit
References
Ad blocker interference detected!
Wikia is a free-to-use site that makes money from advertising. We have a modified experience for viewers using ad blockers

Wikia is not accessible if you've made further modifications. Remove the custom ad blocker rule(s) and the page will load as expected.