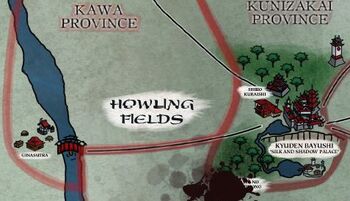 The Howling Fields in the Kawa province [1] were the flat lands bordered by the Path of Thunder and the Emperor's Road. The name came from the low, mournful howling that could be heard whenever a strong wind blew across the plains. [2]
Grave of Onnotangu
Edit
There was something terribly wrong with the Fields. When Hitomi slew Lord Moon, she took Onnotangu's power and magnificence, but cast out Onnotangu's hatred, rage, and jealousy into Ningen-do and placed it in the Scorpion's care. There was no single structure that signified where Lord Moon's essence was hidden, only the Shosuro Daimyo, the Scorpion Clan Champion, and the master of the nearby Temple of Osano-Wo knew of it. All worked in silent cooperation to ensure the secrecy of the Grave of Onnotangu. [3]
References
Ad blocker interference detected!
Wikia is a free-to-use site that makes money from advertising. We have a modified experience for viewers using ad blockers

Wikia is not accessible if you've made further modifications. Remove the custom ad blocker rule(s) and the page will load as expected.