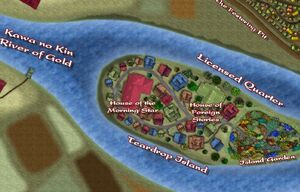 The House of the Morning Star was a geisha house on the Teardrop Island in Ryoko Owari Toshi. [1]
Appearance
Edit
It was large, graceful and traditional one-story gisha house. Its decoration had style and taste, with well-tended garden and pond. Its purpouse was to satisfy expectations, and it did so. [2] In its heyday, it rivaled the House of Foreign Stories as the second most prestigious geisha house on Teardrop Island. [3]
Ide Michikane, son of Ide Baranato, leader of the Unicorn in the city, was found dead by an opium overdose. These event was instrumental in the beginning of the Opium War. [4]
Black Lotus
Edit
During the years following the Scorpion Coup and the Clan War the house soon became a pale shade of its former glory. In the second half of the 12th century the house again become a prominent attraction on the Teardrop Island. It was managed by the Black Lotus Cartel as an outstanding means of scattering koku acquired during criminal enterprises. [5]
Known Okasan
Edit
This is a list of the known okasan of the house:
References
↑ City of Lies: Location's Guide, p. 47
↑ Way of the Thief, p. 68
↑ City of Lies: GM's Guide, p. 80
↑ Way of the Thief, p. 68
↑ Make Them Pay (Dark Allies flavor)
↑ City of Lies: City of Stories, p. 78
Ad blocker interference detected!
Wikia is a free-to-use site that makes money from advertising. We have a modified experience for viewers using ad blockers

Wikia is not accessible if you've made further modifications. Remove the custom ad blocker rule(s) and the page will load as expected.