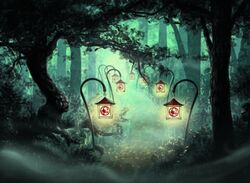 The House of False Hope was a dojo alleged to be home to a ninja training facility, [1] for the most dishonourable of Scorpion assassins, but no one had ever found it if such a place did in fact exist. The Scorpion scoffed and asked how something could be hidden in the plains. [2] It was truly located at Kyuden Bayushi. [3]
Destroyer War
Edit
The region was overrun by Kali-Ma's invading forces during the Destroyer War in 1173. The defense of the area had been risked by the maneuvers of a small group of merchant patrons of the Crane Clan, Mantis Clan and Unicorn Clan, who were willing to jeopardise Scorpion holdings if there was profit in for them. These machinations were brought to the attention of Doji Domotai by a letter from Doji Asami wherein she explained why she committed jigai. The Champion of the Crane Clan sent her husband, Doji Kusari to deal with the issue. While he spared the lives of the merchant patrons, he truly punished them by involving Yoritomo Yashinko, assistant to the Imperial Treasurer and by involving the Emerald Magistrate of whom Bayushi Saito got involved. [4]
Schools and paths
Edit
External Links
Edit
References
Ad blocker interference detected!
Wikia is a free-to-use site that makes money from advertising. We have a modified experience for viewers using ad blockers

Wikia is not accessible if you've made further modifications. Remove the custom ad blocker rule(s) and the page will load as expected.