Houritsu Mura (M11), [1] the Village of Law, was the headquarters of the Tsuruchi Magistrates in the northern Empire. It was located south of the ruins of Otosan Uchi [2] and it included a dojo for the Tsuruchi Bounty Hunters. [1]
Founding
Edit
After the Battle of Toshi Ranbo in 1169 the Imperial Throne was empty. The Mantis Clan saw it as an opportunity to expand their territory. Chaos and disorder could arise, and the Mantis magistrates would be there to maintain order and law. The Mantis Clan Champion Yoritomo Naizen began the construction of the village this year, and maintained it in secret. [2]
Notable Location
Edit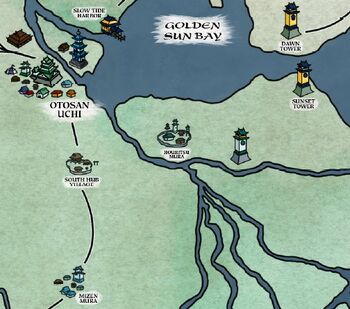 External Links
Edit
References
Ad blocker interference detected!
Wikia is a free-to-use site that makes money from advertising. We have a modified experience for viewers using ad blockers

Wikia is not accessible if you've made further modifications. Remove the custom ad blocker rule(s) and the page will load as expected.