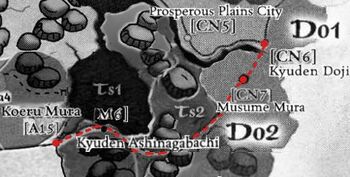 Hoturi's Hope was the road that connected Kyuden Doji (CN6) to Koeru Mura (A15), passing through Musume Mura (CN7). The road was originally called Five Swords Road in honor of the five swords forged by Doji Yasurugi, but was renamed after the Second Day of Thunder to honor Doji Hoturi's sacrifice. The road between the two Crane holdings was short but heavily traveled by diplomats, merchants, and Crane bushi patrols. [1]
References
↑ Secrets of the Crane, p. 39
Ad blocker interference detected!
Wikia is a free-to-use site that makes money from advertising. We have a modified experience for viewers using ad blockers

Wikia is not accessible if you've made further modifications. Remove the custom ad blocker rule(s) and the page will load as expected.