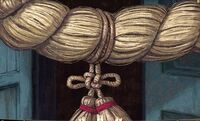 The Shrine to Hotei (S12), the Fortune of Contentment, was small but luxurious. Every artform was performed here, and artisans from all over Rokugan chose it as their destination when they retired. The Scorpion Clan left the monks here to their own devices, having as little to do with them, save taxation and protection, which was their duty. [1] It was located in the Bayushi Nezuban province. [2]
Appearance
Edit
The shrine laid in a beautiful mountain landscape above the waters of the Red Lake. The building was dominated by a huge torii arch with footings resting in the lake's waters down the mountainside from the temple. The shrine was exempt from taxes by Imperial Decree, and its distance from other Scorpion holdings made it a place to hide Scorpion escapees during the time after the Scorpion Clan Coup. [3]
Beautiful sculptures, paintings, and scrolls lined its walls, all dedicated to the finer points of life. [4] The art produced was among the simplest and most profound in the Empire, with simple ink paintings of birds and insects that captured the creatures' essence. Enchanting haiku both playful and profound, sublime gardens were also works of the Hotei monks. [3]
Known Head Monks
Edit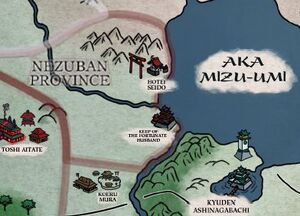 External Links
Edit
References
Ad blocker interference detected!
Wikia is a free-to-use site that makes money from advertising. We have a modified experience for viewers using ad blockers

Wikia is not accessible if you've made further modifications. Remove the custom ad blocker rule(s) and the page will load as expected.