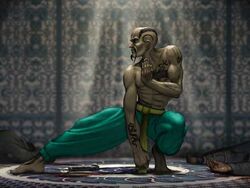 Hoshi Yoson was a monk and Emerald Magistrate of the Dragon Clan.
Emerald Magistrate
Edit
Yoson worked as Emerald Magistrate under Seppun Toshiaki. [1]
Dragon's Guard City
Edit
Yoson was sent to investigate the accusations of corruption to the Dragon's Guard City's governor. He lived several time disguised as a traveling monk, and confirmed the peasants were being grotesquely overtaxed. He defeated and the yorikis of the city governor's chief magistrate, and confronted the chief magistrate. He tried to threaten Yoson with the lifes of the peasants, but his son Terajima, did not support his father's orders, so Yoson killed the corrupted magistrate, and the governor. Yoshon suggested Toshiaki to appoint Terajima as the new governor. [1]
External Links
Edit
References
Ad blocker interference detected!
Wikia is a free-to-use site that makes money from advertising. We have a modified experience for viewers using ad blockers

Wikia is not accessible if you've made further modifications. Remove the custom ad blocker rule(s) and the page will load as expected.