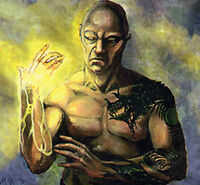 Tamori Tadado was a shugenja of the Dragon Clan who joined the Order of Hoshi as Hoshi Tadao.
Hoshi's Ascension
Edit
Tadao served in the Tamori Foundries researching new types of mitsugusuri. During the Dragon-Phoenix War he had a nightmare in which Togashi Hoshi left the mortal realm and was beset by armies of demons. The old shugenja journeyed to the High House of Light in the dead of the winter, an met Hoshi, who was preparing his ancension to Tengoku. [1]
Warnings to the Hoshi
Edit
Tadao joined the Hoshi family, and since had acted as something of a go-between for the order and their missing founder. He received messages from Lord Hoshi, and his ability to communicate with him, made Tadao one of the most valued members of the Order. [1]
External Links
Edit
References
Ad blocker interference detected!
Wikia is a free-to-use site that makes money from advertising. We have a modified experience for viewers using ad blockers

Wikia is not accessible if you've made further modifications. Remove the custom ad blocker rule(s) and the page will load as expected.