Hoshi Masote was a tattooed Monk of the Dragon Clan
Chaos to Harmony
Edit
Masote's life was chaotic, random and empty prior to his joining the Hoshi family. Since he ascended into the Dragon mountains his ideals became focus, harmony and purity. He sought only perfect harmony with the world. In an order of monks noted for their steadfastness, Masote stood out as an example. His enlightenment came as no surprise. [1]
The Wanderer
Edit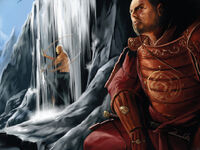 Masote spent hours on end contemplating the Elements and honing his body into an amazing weapon in the Mystic Waterfall. In 1168 the Wanderer encountered Masote as he traversed the Empire and began to study with him. However, as with much else that he came to know the Wanderer ultimately decided that Masote's way could not. [1]
External Links
Edit
References
Ad blocker interference detected!
Wikia is a free-to-use site that makes money from advertising. We have a modified experience for viewers using ad blockers

Wikia is not accessible if you've made further modifications. Remove the custom ad blocker rule(s) and the page will load as expected.