Hoshi Maseru was a sohei of the Dragon Clan.
Siege of Sleeping Mountain
Edit
Hoshi Maseru was a follower of Hoshi who stood beside the Naga army against Hitomi in the Siege of Sleeping Mountain. [1]
New from inside Kyuden Hitomi
Edit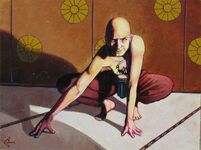 Maseru was inside Kyuden Hitomi as part of a parley mission. He could see a tainted Hitomi sat on her ivory throne, in front of a bloody mirror, and a crystal prison with a Shadow inside, a man with no face. This information strenghtened the Naga attack on Kyuden Hitomi. [1]
Hunting Kokujin
Edit
In 1154, was a part of a group of 40 sohei who attacked Kokujin on the Plains Above Evil. Of the forty, only Hoshi Kaelung returned to Shinden Hoshi. The exact fate of Maseru is unknown, altho he was most certainly killed. [2]
External Links
Edit
References
Ad blocker interference detected!
Wikia is a free-to-use site that makes money from advertising. We have a modified experience for viewers using ad blockers

Wikia is not accessible if you've made further modifications. Remove the custom ad blocker rule(s) and the page will load as expected.