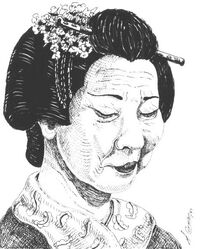 Hoseki, also known as Jewel was the okasan of the House of the Morning Star.
Geisha House
Edit
Hoseki owned the House of the Morning Star, ans she was a vassal to Shosuro Hyobu, governor of Ryoko Owari at that time. [1] Her protege was Precious, who worked for her since childhood. [2]
Demeanor
Edit
Hoseki was crafty, avaricious and manipulative. She had quite quantity of money, social influence and operated above the law. He had the goal of destroy the competitor House of Foreign Stories, Magda. [1]
References
Ad blocker interference detected!
Wikia is a free-to-use site that makes money from advertising. We have a modified experience for viewers using ad blockers

Wikia is not accessible if you've made further modifications. Remove the custom ad blocker rule(s) and the page will load as expected.