Horses existed in Rokugan since before the foundation of the Emerald Empire. They were used to transport supplies, labor in the field, or they were trained as warhorses since the Unicorns returned. The original horse was the Rokugani pony. [1] Namaku was the Fortune of horses. [2]
Naga smell
Edit
For unknown reasons the smell of the Naga made horses nervous, causing them to panic. [3] Horses saw the Naga as natural predators. [4]
Known Breeds
Edit
See also
Edit
External Links
Edit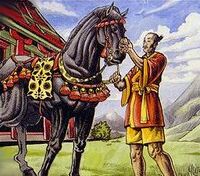 References
Ad blocker interference detected!
Wikia is a free-to-use site that makes money from advertising. We have a modified experience for viewers using ad blockers

Wikia is not accessible if you've made further modifications. Remove the custom ad blocker rule(s) and the page will load as expected.