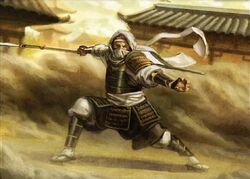 Hongo was a tainted monk and kensai of the Spider Clan.
Hunting Rokugani
Edit
In 1171 Hongo was alongside Nagataka, seeking Rokugani prey to kill. They saw Dragon samurai who followed yobanjin. It was supposed the barbarians had been driven out of the Empire after the end of the War of Dark Fire. The Spider followed the Rokugani to learn what was happening instead of attacking them. [1]
Increasing the Spider ranks
Edit
Hongo came to a temple, used by the Spider sohei as a base. In the village nearby the locals had been taught the fighting arts, and also learned the Spider philosophy. Seppun Tashime, an Emerald Magistrate, arrived there investigating why the village had stopped its tax collection, suspecting the monks were the origin of the shifted loyalty. Hongo refused to give explanations, and before he could be caught for questioning, Tashime was struck by a maho spell from Daigotsu Shaiko and fell unconscious. She decided to spare the magistrate's life against the opinion of Hongo. [2]
External Links
Edit
Hongo (Glory of the Empire)
References
Ad blocker interference detected!
Wikia is a free-to-use site that makes money from advertising. We have a modified experience for viewers using ad blockers

Wikia is not accessible if you've made further modifications. Remove the custom ad blocker rule(s) and the page will load as expected.