Hizoka was a Monk of the Brotherhood of Shinsei.
Defender of the Temples
Edit
Hizuka was a member of the Defender of the Temples sect. [1]
Siege of Sleeping Mountain
Edit
Hizuka as part of the Brotherhood was alongside the Naga against Hitomi in the Siege of Sleeping Mountain. When he realized the bloodshed he regreted his own deeds. [2]
Twenty-Seven Days of Darkness
Edit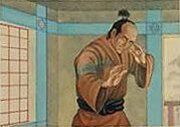 In 1132 Onnotangu was dead and Amaterasu had fled the Celestial Heavens, beginning the Twenty-Seven Days of Darkness. In the twenty first day Hitomi visited a ruined shrine in the Mountain of the Seven Thunders. Hizuka was there, regreting the bloodshed he had seen and caused. Hitomi put her hands on him and Hizuka calmed down his heart. [3]
War Against Shadow
Edit
In 1133 Hizuka was in the Shrine of the Seven Thunders when he saw the seven Celestial Dragons carrying the last of Rokugan's greatest heroes toward Volturnum's gates. The temple was attacked by the Shadows shortly after. [4]
External Links
Edit
References
Ad blocker interference detected!
Wikia is a free-to-use site that makes money from advertising. We have a modified experience for viewers using ad blockers

Wikia is not accessible if you've made further modifications. Remove the custom ad blocker rule(s) and the page will load as expected.