Hitomi Tashima
Talk

0
21,392pages on
this wiki
Shinjo Tashima was a bushi and magistrate of the Unicorn Clan. He later joined the Dragon Clan, becoming a Tattooed Monk and taking the name Hitomi Tashima.
Otosan Uchi
Edit
Tashima had a private estate at Otosan Uchi prior to the Scorpion Coup. [1]
Scorpion Coup
Edit
In the second day of the Scorpion Coup a combined Unicorn-Phoenix force tested the Outer Northern Wall, ordered by the Unicorn Clan Champion Shinjo Yokatsu. The general Bayushi Togai led a Scorpion's Strike platoon, alongside with Bayushi Hisa and his Black Cabal, and Bayushi Tangen with his Bayushi Ambushers, against Shinjo Tashima and his Shinjo's Thunder, Shinjo Mokatsu with his Striders, Shiba Shingo and his Water Elementals, and the shugenja Isawa Suma with his yojimbo. An entire Shinjo's Thunder squad managed to past the defender, entering into the city with no way back out. [2]
Dragon is Silence
Edit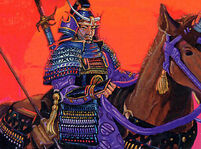 After a long time with no news from the Dragon, the Unicorn sent Tashima to Kyuden Togashi to gather information, [3] commanded by his cousin Shinjo Shirasu. Shortly after arriving in the Dragon lands, Tashima encountered Hitomi Kokujin. [4]
Hitomi tattooed Tashima with her own obsidian-corrupted blood and the Dragon went mad and swore fealty to her [5] taking the name Hitomi Tashima. [6]
Burning Sands
Edit
Somehow Tashima went to the Burning Sands. Tashima was bitten by a sahir, Felah Hassan, during a fight. [7]
External Links
Edit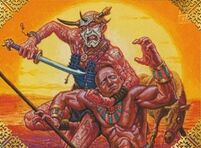 References