Hitomi Kazu was a monk of the Dragon Clan.
Enlightenment
Edit
Kazu did not spend his time living a life of peace and filling his hours with contemplation and meditation like other monks. Since he received his tattoos and took up the name of Lady Moon, he had lived only to serve her will, and he smolders with her righteous rage - a rage that he would vent whenever he felt that his divine mistress wills it. Few who knew him did not fear him, and it was only through the auspices of his Lady that enlightenment had blossomed within his soul. How he would use this gift remained to be seen. [1]
External Links
Edit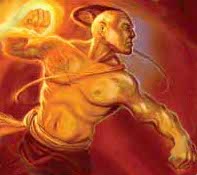 References
Ad blocker interference detected!
Wikia is a free-to-use site that makes money from advertising. We have a modified experience for viewers using ad blockers

Wikia is not accessible if you've made further modifications. Remove the custom ad blocker rule(s) and the page will load as expected.