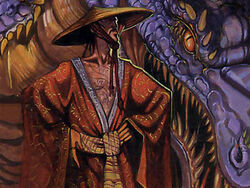 Hitomi Dajan was a Monk of the Dragon Clan.
Forewarning about the Fall of the Moon
Edit
Dajan informed their brethren about the next movements of Hitomi. His Lady would take the secrets of the captured Shadow and would leave Kyuden Hitomi, to seek her own path to the Celestial Heavens. The success would be seen when the Moon fell from the sky. [1]
Dragon Stand United
Edit
Upon the ascension of Hitomi to become Lady Moon the Togashi were reinstated as Togashi Hoshi claimed the leadership of the Dragon. In addition to the Togashi being restored those who swore to the Hoshi name were allowed to join the Dragon. Using wisdom learned from Hitomi, Hoshi prepared for the upcoming conflict with the Lying Darkness. [2] Dajan told Hoshi the Lady had asked them to serve him. [3]
External Links
Edit
References
Ad blocker interference detected!
Wikia is a free-to-use site that makes money from advertising. We have a modified experience for viewers using ad blockers

Wikia is not accessible if you've made further modifications. Remove the custom ad blocker rule(s) and the page will load as expected.