Mirumoto Bujun was a peasant who joined the Dragon Clan, and eventually he was tattooed and became Hitomi Bujun.
Joining the Dragon
Edit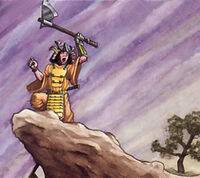 Bujun was born a peasant. As a youth, he became a student of kaze-do and developed incredible skill in unarmed combat. He even defeated three armed samurai during an unprovoked attack. Mirumoto Sukune was so impressed that patroned him to become a student of Mirumoto Yukihira, the renowned Weaponmaster. After numerous examples of heroic bravery, he was taken into the Mirumoto family and became samurai. [1]
Agasha Defection
Edit
Bujun came beside his Lady Hitomi to inform the Agasha family was leaving the Dragon lands. They had taken everything from their homes, and their libraries were bare. The Agasha Daimyo, Agasha Tamori, was one of the few who remained loyal to the Dragon. Hitomi pondered the situation with Hitomi Kokujin, and eventually she did not allow Bujun to chase the traitors with a legion. [2]
Siege of Sleeping Mountain
Edit
Bujun was a member of a force led by Mirumoto Sukune, who were forced to retire when the Naga marched against Hitomi. [3] When the Naga army threatened Kyuden Hitomi, Hitomi Kobai returned from the Imperial Court and confirmed the Imperial Legions would fight against the serpentine creatures. Hitomi knew her battle was no longer in the Mortal Realm, but she would not leave her fellows in their final hour in the Siege of Sleeping Mountain. [4]
Tattooed
Edit
Bujun was tattooed by Hitomi, with a Crow tattoo in his chest [5] becoming Hitomi Bujun. [6] He also had the Snake tattoo. [7]
War Against Shadow
Edit
When the armies of the clans marched toward Volturnum, Hitomi spoke from the Heavens. Hitomi Kagetora chose his six most trusted warriors Hitomi Reju, Hitomi Akuai, Hitomi Kobai, Hitomi Bujun, Hitomi Pukku, and Hitomi Kazaq, and they were forced by Lady Moon to remain behind, not to join their brethren at Volturnum. In the Battle of Oblivion's Gate the Hitomi sacrificed themselves to gain the battle against the Shadow. They thrown their bodies against the Goju, and combined their tattoo magic in an explosive, suicidal display. [8]
Bujun had a son, Mirumoto Choten. [9]
See also
Edit
External Liunks
Edit
References
Ad blocker interference detected!
Wikia is a free-to-use site that makes money from advertising. We have a modified experience for viewers using ad blockers

Wikia is not accessible if you've made further modifications. Remove the custom ad blocker rule(s) and the page will load as expected.