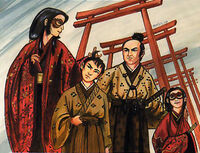 Hitojichi was the Rokugani word for "hostage". A hostage was taken with agreement or notification of the hostage's family. This was done for many reasons, most often to insure good behavior in an enemy. Occasionally, if one family wished to assert superiority over the other, their hostage was required to swear permanent fealty. [1]
See Also
Edit
References
↑ Winter Court: Kyuden Kakita, p. 47
Ad blocker interference detected!
Wikia is a free-to-use site that makes money from advertising. We have a modified experience for viewers using ad blockers

Wikia is not accessible if you've made further modifications. Remove the custom ad blocker rule(s) and the page will load as expected.