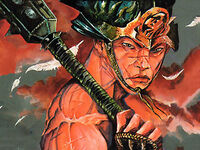 Hiruma Tatsuzo was a Crab Clan samurai. He was an enemy of Voitagi.
Appearance
Edit
Tatsuzo was a cold, dispassionate black eyes, large warrior, with bits of withered undergrowth tucked into his headband and a torn, camouflaged cloth hung from his armor. His face was weathered and scarred. [1]
Twenty Goblins Winter
Edit
In 1160 Tatsuzo under the command of Hida Benjiro attended ambitious ronin seeking to gain fealty to the Crab in a Twenty Goblin Winter which had been edicted by Hida Kuroda two years ago. [1] During a patrol in the Shadowlands alonsgside Benjiro and Hiruma Ashihei, they saw a Shadowlands army of undead, goblin and Lost marching toward Shinsei's Last Hope. [2]
External Links
Edit
References