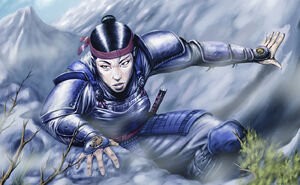 Hiruma Sakimi was a bushi Scout of the Crab Clan.
Imperial Standard
Edit
In 1168 Sakimi participated in the Battle of the Tomb, where she saved the Imperial Standard from falling onto the Tainted dirt of the Shadowlands. [1] Sakimi fled when the battlefield was virtually gone. Nothing remained, save the oni chasing them. He safely reached Kyuden Hida with the Imperial Standard after Shiba Aikune, Mirumoto Rosanjin and Yoritomo Katoa remained behind, sacrificing themselves to delay the pursuers. [2]
Betrothed
Edit
In an agreement between Crab and Unicorn Clan during Winter Court at Kyuden Otomo in the winter 1168-1169, Sakimi would marry Horiuchi Nobane. She would take his name and provide him an heir worth of his steed. [3]
External Links
Edit
References
Ad blocker interference detected!
Wikia is a free-to-use site that makes money from advertising. We have a modified experience for viewers using ad blockers

Wikia is not accessible if you've made further modifications. Remove the custom ad blocker rule(s) and the page will load as expected.