Hiruma Rik'tik'tichek 
 
Born:
Unknown 
Died:
Unknown 
Children:
Ashi and many others
People
Rik'tik'tichek was a Nezumi of the Crippled Bone Tribe. [1]
Rik'tik'tichek had several pups. Ashi was his ninth. [2]
Hiruma family
Edit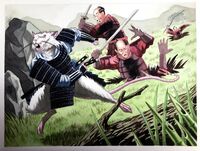 Rik'tik'tichek for his valor in combat was taken into the Crab Clan by Hida O-Ushi [3] within the Hiruma family, becoming Hiruma Rik'tik'tichek. [4]
Transcendet
Edit
Rik'tik'tichek became a Wikki'thich-hie, a trascendent who guided his descendants, as the founder and first Chieftain of the Blue Fur Tribe, Kch'ay-Bur. [1] The killer of the onisu Kyofu, Yoee'trr, was the son's son of Rik'tik'tichek. [5]
External Links
Edit
References
Ad blocker interference detected!
Wikia is a free-to-use site that makes money from advertising. We have a modified experience for viewers using ad blockers

Wikia is not accessible if you've made further modifications. Remove the custom ad blocker rule(s) and the page will load as expected.