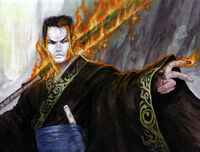 Hiruma Oda was a bushi of the Crab Clan, known for wearing kabuki face paint.
Enlightenment
Edit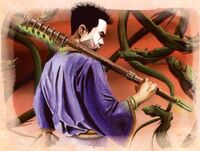 A simple man who rarely spoke, Oda would seem a very unlikely man to have achieved enlightenment in the months since it was brought to the empire by Asahina Sekawa, but had in fact done so. [1]
Kuon's view on Kurako
Edit
In 1168 Toritaka Tatsune sent word from Winter Court at Kyuden Otomo that the Empress Toturi Kurako had appointed Bayushi Norachai as Protector of the Imperial City. Norachai requested to the Great Clans two thousand warriors to defend the capital Toshi Ranbo. Kuon refused to weaken the Kaiu Wall. He assumed that the
were manipulating the Empress somehow. Kuon could not believe that the dead Emperor Toturi III thought her worthy of the Imperial Throne. If a worthy man with the strength to hold the Empire together were to sit on the Steel Throne, Kuon would pledge his legions to follow him. [2]
External Links
Edit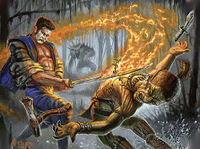 References