Hiruma Nitani was a bushi and a scout of the Crab Clan, and a member of the Legion of the Jade Hand.
Colonies
Edit
Nitani was the leader of the Crab's expeditionary forces, in charge of exploring the lands to be claimed as Crab's in the Colonies. In 1198 the Kuni Daimyo Kuni Renyu arrived to the Second City and took command of the Crab forces there. His brother the Crab Clan Champion Hida Kisada had ordered to move on to new territories, as the Crab would be no longer interested in holding regions that they had stripped of resources. [1]
In 1199 Nitani was tasked by Renyu to patrol to the south, searching for signs of the Spider who were attacking Crab and Lion holdings. His unit eventually caught their trail, heading towards the Second City rather than further military targets. The Spider uncovered their position using jade, which masked their taint, leaving the Crab exposed to an ambush. While the Spider slaughtered the Crab to a man, Nitani was wounded by Daigotsu Gyoken. Crippled, the Spider Commander forced Nitani to drink the Blood of the Preserver. [2]
External Links
Edit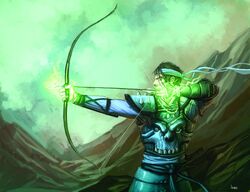 References