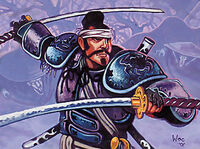 Hiruma Nichi was a Crab Clan Magistrate and Scout.
Training
Edit
Nichi was a student of the First Strike Dojo, at Shiro Hiruma, skilled in stealth and the elimination of Shadowlands creatures. [1]
His exceptional powers of perception served the clan far better atop the Kaiu Wall, despite Nichi was not particularly pleased with this arrangement. [1]
Carpenter Wall Falls
Edit
Nichi was the first to realize that the Kaiu Wall had been breached during Kyofu's assault. [2] Herecovered from the grievously wounds taken in the battle. [1]
External Links
Edit
References