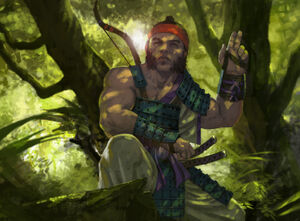 Hiruma Itta was a bushi of the Crab Clan.
Topaz Championship
Edit
Itta was selected as one of the contenders in the Topaz Championship on the year of his gempukku. He did not emerge victorious, but brought honor to his clan, as Shiba Jaishu and Daidoji Ujirou. The Phoenix paid for all sake for any competitors who were present during the celebration that night, and Itta proved what a Crab could drink. [1]
Jaishu was fostered to the Crab, defending the Kaiu Wall with Itta. In one of the Shadowlands incursions Jaishu killed a gigantic and wormlike oni. He had dumped jade powder all over himself and jumped in the thing's mouth. The jade burned it on the soft tissue inside, meanwhile, Jaishu stabbed the creature to death. [1]
Mourning a Friend
Edit
In 1199 Ujirou and Itta met other friends of Jaishu as Utaku Sang-Ju and Shiba Michiki. The group mourned Jaishu, who had died of an illness during the winter. [1]
External Links
Edit
References
Ad blocker interference detected!
Wikia is a free-to-use site that makes money from advertising. We have a modified experience for viewers using ad blockers

Wikia is not accessible if you've made further modifications. Remove the custom ad blocker rule(s) and the page will load as expected.