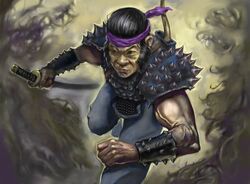 Hiruma Ikuya was a bushi and scout of the Crab Clan.
Destroyer War
Edit
During the Destroyer War the gaijin demons circumvented Shiro Hiruma in 1171, which remained isolated from the Empire, and Ikuya was one of the castle defenders. [1]
Rakshasa
Edit
In 1173 in the called Bitter Spring of the Destroyer War, the Crab had assets secreted behind enemy lines, and were preparing some manner of gambit in hopes of drawing out the Rakshasa General, lieutenant of Kali-Ma. [2] Ikuya had joined the forces of Hida Benjiro, and reported that the Destroyers had tracked down the position of the Crab Rikugunshokan. They were in an undefendible position, cut off from all support and facing a potentially much larger force. Benjiro knew that the Rakshasa was coming for him. [3]
External Links
Edit
References