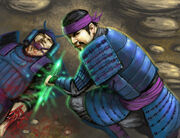 Hiruma Ikage was a Crab Clan bushi.
Demeanor
Edit
Ikage was a quiet man, a professional soldier, respected by his officers. [1]
Searching Shinomen Mori
Edit
He accompanied Toritaka Kaiketsu on Kaiketsu's mission to the Shinomen Mori in 1170, while investigating the surfacing Spider Clan, and they were attacked. [1] Ikage aided his commander to chase the expected attackers, a Unicorn patrol. [2] The Unicorn were killed to the last man. [3] Ikage gave him tracks that a cavalry unit had fled, and that these Unicorns were not those who fired the arrows, so the bloodshed was a mistake. [2]
External Links
Edit
References
Ad blocker interference detected!
Wikia is a free-to-use site that makes money from advertising. We have a modified experience for viewers using ad blockers

Wikia is not accessible if you've made further modifications. Remove the custom ad blocker rule(s) and the page will load as expected.