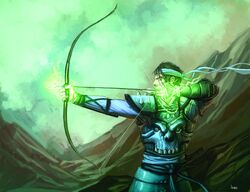 Hiruma Hidora was a bushi and a scout of the Crab Clan, and a member of the Legion of the Jade Hand.
Oni attack the Wall
Edit
In 1171 Hidora was stationed on the Kaiu Wall under the command of Hida Benjiro, when an oni relentless attack put the Wall in brisk of being overrun. The Lion and Unicorn Clan sent reinforcements to bolster the defense. [1]
Destroyer War
Edit
He fought in the Destroyer War, noticing jade affected the Destroyers but not as severely as it should. [2]
External Links
Edit
References
Ad blocker interference detected!
Wikia is a free-to-use site that makes money from advertising. We have a modified experience for viewers using ad blockers

Wikia is not accessible if you've made further modifications. Remove the custom ad blocker rule(s) and the page will load as expected.