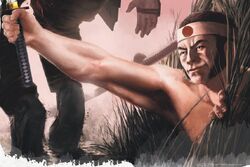 Hiruma Fujito was a bushi and scout of the Crab Clan.
Fujito and his mate Hida Toranosuke made incursions in the border with the Shadowlands, ambushing and killing errand monsters that could threat the Empire. In 1199 they pondered if they would leave for the Colonies alongside the forces assembled by Iweko Seiken, the Imperial Heir. [1]
Corruption Spreads
Edit
Fujito was stationed in an outpost within his family lands, killing wandering bands of goblin who appeared from time to time. In 1199 Fujito and his fellow kin fought a demon which looked like a centipede, over fifty feet long, and covered in a black spurs which it kept projecting around itself. He used jade powdered arrows to make the creature to flee. Kuni Tomokazu told Fujito that those samurai wounded by the black spur were unable to withstand the pain, and they began to willingly surrender to the Shadowlands Taint, as requested by a voice projected in their mind. The scout took the lives of his tainted companions before he brought the news to Kyuden Hida. The Crab Clan Champion Hida Kisada ordered the garrisons all across the Kaiu Wall to stock up on jade powder, and sent Fujito as the messenger. Fujito tracked the oni down with the aid of Shosuro Nagako, who had been posing as a Hiruma Scout named Hiruma Eiko. [2]
External Links
Edit
References
Ad blocker interference detected!
Wikia is a free-to-use site that makes money from advertising. We have a modified experience for viewers using ad blockers

Wikia is not accessible if you've made further modifications. Remove the custom ad blocker rule(s) and the page will load as expected.