Ad blocker interference detected!
Wikia is a free-to-use site that makes money from advertising. We have a modified experience for viewers using ad blockers

Wikia is not accessible if you've made further modifications. Remove the custom ad blocker rule(s) and the page will load as expected.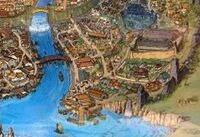 The Higshikawa district was the one of the outer districts of Otosan Uchi, along the northern banks of the River of the Sun where it joined the Golden Sun Bay. It was named for one of its governor, Bayushi Higshikawa. Many merchants and Geisha houses were located there. Many of the houses were built on stilts to prevent the damages of the floods. [1]
Scorpion Coup
Edit
In 1123 during the Scorpion Coup the Higshikawa district was taken almost immediately by the Scorpion in the first day of assault. [2] In the second day the Crane, Tortoise and Mantis Clan fleets cordoned off the Bay to avoid the Scorpion to have reinforcements or supplies from sea. [3] In the fourth day the combined forces of the Clans had regained control of the majority of the Outer Districts. Only Tsai, Higshikawa and Meiyoko districts remained under Scorpion control, but they were seized in the fifth day. [4] In its river ports was captured Bayushi Sundokai, one of the two generals of the Scorpion forces. [5] The district was one of the most damaged, and much of the Peddler's Row was needed to be rebuilt. [3]
After the Coup
Edit
The governor Shosuro Mukai actively worked against his own clan. After the Coup he remained in his post and joined the Otomo family as Otomo Mukai. [6]
References