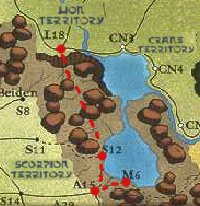 The Hidden Path was little more than a crude path through the mountain wilderness. It connected Kyuden Ashinagabachi (M6) with Koeru Mura (A15), Hotei Seido (S12) and Shiro Matsu (L18). Tsuruchi had ordered that this path be carved so that the Wasp could detect enemies approaching from the Lion lands. [1]
References
↑ Secrets of the Mantis, p. 55
Ad blocker interference detected!
Wikia is a free-to-use site that makes money from advertising. We have a modified experience for viewers using ad blockers

Wikia is not accessible if you've made further modifications. Remove the custom ad blocker rule(s) and the page will load as expected.