Ad blocker interference detected!
Wikia is a free-to-use site that makes money from advertising. We have a modified experience for viewers using ad blockers

Wikia is not accessible if you've made further modifications. Remove the custom ad blocker rule(s) and the page will load as expected.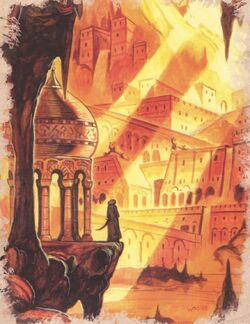 The Hidden Keep of the Assassins was the stronghold of the Assassins.
The Keep had six gates, which were defended by the Assassin Keepers. [1]
Abandoned
Edit
The building was left by the order in 1132 after Adira, a former assassin, became the Caliph. It had exposed its location to the current rulers of Medinaat al-Salaam. [2]
Pilgrimage
Edit
Once per year, in the day of the birth of his first leader, the Old Man of the Mountain, or in the day of his death, the True Children of the Mountain sent men to honor the founder of the Order. Adira herself attended the 25th anniversary of the Old Man's death. [3]
External Links
Edit
References
↑ Legend of the Burning Sands Roleplaying Game, p. 172
↑ Legend of the Burning Sands Roleplaying Game, p. 154
↑ Legend of the Burning Sands Roleplaying Game, p. 165