Ad blocker interference detected!
Wikia is a free-to-use site that makes money from advertising. We have a modified experience for viewers using ad blockers

Wikia is not accessible if you've made further modifications. Remove the custom ad blocker rule(s) and the page will load as expected.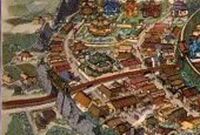 The Hidari district was the one of the outer districts of Otosan Uchi. It was named for its governor, Asahina Hidari. Many of the most famous shops, inns, and other buildings were seen alongside the Road of the Most High. It was one of the entrance to the city, so to this strategic district the Emperor appointed governors as a matter of pride and honor. [1]
Scorpion Coup
Edit
In 1123 during the Scorpion Coup the Hidari district was not taken by the Scorpion in the first days of assault. [2] The district was liberated by the combined armies of the clans on the fifth day, [3] after the most ferious fightings between the clans and the Scorpion. [4] Little damage was inflicted upon the district during the fights. [5]
References