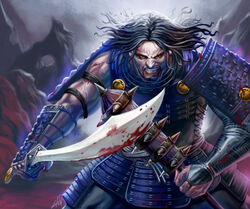 Hida Yamadera was a bushi and berserker of the Crab Clan, and member of the Damned.
Yamadera was a member of the Hida Elite Guard until the Destroyer War, at which point he was Tainted by the weapons of the Destroyers. The Taint supernaturally extended his life, and despite his years, in the late 12th century he remained young and fit for battle. [1]
Colonies
Edit
Yamadera saw as a curse to live when all others died. He must live to find that which could kill him. [2] In 1198 Yamadera was exploring in the Colonies, when somehow he began a fought with a Spider monk, until his opponent impaled himself with a long steel blade while flipping through the grass. A shojo appeared, which knew the crab was tainted, and told that dark human lived forever before the ape-like creature disappeared. [3] Yamadera took up the Lost Blade of the Maharaja in the area later known as the Feeding Hills of the Shojo. [4]
External Links
Edit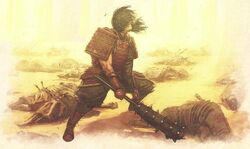 References
Ad blocker interference detected!
Wikia is a free-to-use site that makes money from advertising. We have a modified experience for viewers using ad blockers

Wikia is not accessible if you've made further modifications. Remove the custom ad blocker rule(s) and the page will load as expected.