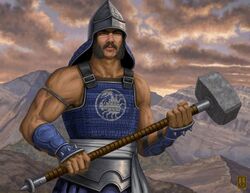 Hida Ubogin was a Crab Clan bushi commander and berserker.
Ubogin in 1170 was a defender of the Kaiu Wall in the Watchtower of the East. [1]
Third Yasuki War
Edit
Ubogin fought in the Third Yasuki War against the Crane Clan. He was a task master with Kaiu Taru as one of his men, and it was there that they became friends. [1]
Gifts of Ryoshun
Edit
Ubogin was sleeping in the Drunken Carp when he appeared in an unknown place, along with several others including his missing friend Taru. They had been summoned by Ryoshun to Meido to be chosen as followers to either the Voice of the Jade Sun or the Voice of the Obsidian Moon. The Tenth Kami warned the Emerald Empire was to be tested, tested as it had never been before. They must prepare mankind for the trials ahead, and to remind him of the favor of the Celestial Heavens. Each was gifted with an item crafted from the essence of one Spirit Realm to help them in their service to the Voices. [2] [3] Ubogin chose the Talisman of Meido. [4]
External Links
Edit
References
Ad blocker interference detected!
Wikia is a free-to-use site that makes money from advertising. We have a modified experience for viewers using ad blockers

Wikia is not accessible if you've made further modifications. Remove the custom ad blocker rule(s) and the page will load as expected.