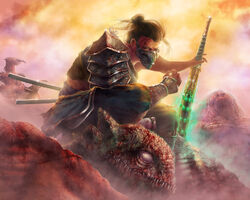 Hida Toranosuke was a bushi of the Crab Clan.
Colonies
Edit
Toranosuke in 1198 was within the colonial capital during the Siege of the Second City. [1]
Fighting the Shadowlands
Edit
Toranosuke and his mate Hiruma Fujito made incursions in the border with the Shadowlands, ambushing and killing errand monsters that could threat the Empire. In 1199 they pondered if they would leave for the Colonies alongside the forces assembled by Iweko Seiken, the Imperial Heir. [2]
Scorpion Wall
Edit
In 1200 Toranosuke was part of a Crab detachment sent to reinforce the Scorpion Wall defenders, who had thinned due to their conflict with the Lion. Toranuske maintained himself alert and ready, covering his tetsubo in jade powder every day. [3]
The Battle of the First Seal
Edit
Temple of the First Seal
Edit
Toranosuke was an aide to Kuni Renyu, the Kuni Daimyo, during their travel to the Shinomen Mori in search of some ancient ruin. They departed from Kyuden Hida with a group of Tsuruchi as guides and escort. They were joined by the Master of Earth Isawa Norimichi who commandeered the Phoenix forces stationed in the Second Festering Pit. With the aid of Tetsuo, a renegade Spider monk, the Rokugani arrived to an ancient temple, who knew of this place because it has been found by the Disgrace. [4]
Battle for the First Seal
Edit
Shortly after they entered the Temple of the First Seal, the Rokugani were attacked by Spider forces, outnumbered fifty to one. Norimichi was soundly defeated by Daigotsu Yuhmi and the Battle of the First Seal was over. Toranosuke released Tetsuo from his chains, who in turn confronted Yuhmi to gain time for the Rokugani. Toranosuke ordered his men to fall back with him. [4]
External Links
Edit
References
Ad blocker interference detected!
Wikia is a free-to-use site that makes money from advertising. We have a modified experience for viewers using ad blockers

Wikia is not accessible if you've made further modifications. Remove the custom ad blocker rule(s) and the page will load as expected.