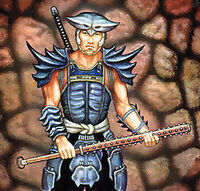 Hida Tokichiro was a Crab Clan Berserker who held a grudge against Yoritomo Kitao. [1]
Hida Sakamoto once told Hida Kuon that he thought Tokichiro had a bit of Kaiu blood in him. [2]
Fall of Otosan Uchi
Edit
Tokichiro was as an emissary member of the Imperial Court under the Four Winds, [3] against Tokichiro's wishes. Yasuki Hachi sent Tokichiro to protect West Hub Village during the Fall of Otosan Uchi in 1159. Hida Wukau allowed Tokichiro and his fellows berserker of the Razor's Edge Dojo to march against the Shadowlands forces who were attacking the Imperial City. [4]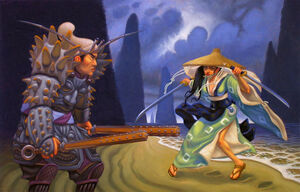 External Links
Edit
References
Ad blocker interference detected!
Wikia is a free-to-use site that makes money from advertising. We have a modified experience for viewers using ad blockers

Wikia is not accessible if you've made further modifications. Remove the custom ad blocker rule(s) and the page will load as expected.