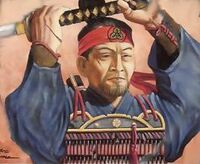 Hida Sunao was a veteran warrior of the Crab Clan. He was a comrade of Hida Yasamura and later served as an advisor for Yasamura's son, Hida Kuon.
Station in Yasuki Palaces
Edit
Sunao was stationed at Yasuki Yashiki when the Kaiu Wall was attacked. [1]
Retaking the Wall
Edit
Sunao fought alongside the Baraunghar during Kuon's fight to take the Kaiu Wall from Kyofu in 1159. While pleased with the Crab's peace with the Crane Clan he did have reservations as to the Crane's motives. [2] [3]
External Links
Edit
References
Ad blocker interference detected!
Wikia is a free-to-use site that makes money from advertising. We have a modified experience for viewers using ad blockers

Wikia is not accessible if you've made further modifications. Remove the custom ad blocker rule(s) and the page will load as expected.