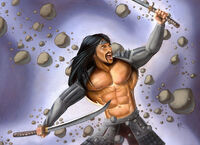 Hida Sosuke was a Crab Clan bushi who attained enlightenment.
Iuchiban
Edit
Sosuke was stationed in the Kaiu Wall when he saw bloodspeakers arriving from the Valley of the Spirits, Tani Hitokage. [1]
Enlightenment
Edit
Born with a rare gift know as Spirit Sight, Hida Sosuke spent much of his youth among the Toritaka, learning to put aside the visions that dance at the edge of his mind. With the advent of Rosoku and his challenges, and a chance meeting with the Keeper of Earth, Kaiu Sugimoto, Sosuke came to wonder if his gifts should be ignored. [2]
External Links
Edit
References
Ad blocker interference detected!
Wikia is a free-to-use site that makes money from advertising. We have a modified experience for viewers using ad blockers

Wikia is not accessible if you've made further modifications. Remove the custom ad blocker rule(s) and the page will load as expected.