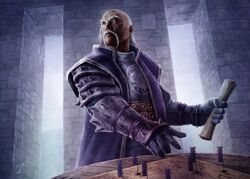 Hida Satoshi was a bushi and tactician of the Crab Clan.
Destroyer War
Edit
In 1172 the Crab lands were under the control of the Destroyers. Satoshi as advisor of the Crab Clan Champion Hida Reiha reported they did not have the resources to retake the lost territory. The Jade Widow told the Crab would continue fighting until the last man. [1]
External Links
Edit
References
Ad blocker interference detected!
Wikia is a free-to-use site that makes money from advertising. We have a modified experience for viewers using ad blockers

Wikia is not accessible if you've made further modifications. Remove the custom ad blocker rule(s) and the page will load as expected.