Hida Ruri 
 
Born:
Unknown 
Died:
- 
Spouse:
Unnamed Hida
People
Soshi Ruri became a tainted shugenja and bloodspeaker who joined the Chuda family as Chuda Ruri. She attained the status of enlightenment. She later married to a Crab becoming Hida Ruri, but was an infiltrator of Daigotsu and his Spider Clan.
Betrayal
Edit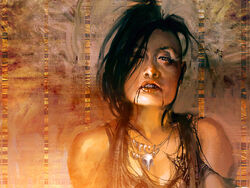 Lured by the prospect of power and immortality, Soshi Ruri betrayed her family, her clan, and the empire to join Daigotsu. [1] Her talents for divination and scrying quickly brought her power and prestige within the Spider. [2]
Enlightenment
Edit
The Chuda embraced the path of personal power, that those who could take it should seize it from those who were too weak to retain it.
Legends said that humans were born of the blood and tears of the Sun and Moon. As such, Ruri believed the true secrets of the universe were locked inside the blood of men. She decided she would discover the truth, no matter how many should have to die. [1]
Enlightenment side effect
Edit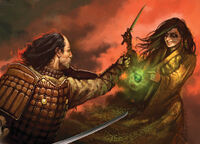 Ruri quickly found that enlightened beings could not be harmed by jade. [3] The Rokugani learned it much later, during Winter Court at Kyuden Otomo in 1168. [4]
Hida Ruri
Edit
Ruri married a Crab bushi sometime in late 1171 during the Crab's initial struggle with the Destroyers. She used this as an opportunity to gather information about the Destroyers for Daigotsu, but found it more difficult to ignore her budding feelings for her husband. [5]
Divining pool
Edit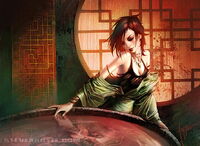 Ruri mastered the rituals of divination, and she used Divining Pools for that purpose. She also used the pool to communicate with Daigotsu. [5]
Destroyer War
Edit
During the Destroyer War against the force of Kali-Ma, Ruri was at the front lines as a Crab. [6]
Three Man Alliance Plain
Edit
In 1173 together with Hida Ikarukani, her husband's cousin, she discovered fragments of Destroyers beneath the earth of the Three Man Alliance Plain some days after Chuda Inisi had exterminated an invading force there via maho. Thus they learned of the fate of a missing Minor Clan contingent. [6]
The Age of Conquest
Edit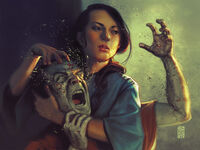 In the late 12th century, Ruri was still alive, practicing maho in secret. She halted her aging process, consuming unwilling victims using Fierce Blood of the Earth spell. [7]
See also
Edit
External Links
Edit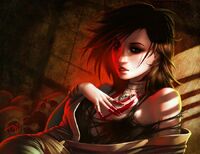 References
Ad blocker interference detected!
Wikia is a free-to-use site that makes money from advertising. We have a modified experience for viewers using ad blockers

Wikia is not accessible if you've made further modifications. Remove the custom ad blocker rule(s) and the page will load as expected.