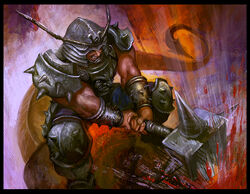 Hida Rikyu was a Crab Clan Berserker.
Crab Retaliation to the Scorpion
Edit
In 1168 Rikyu with his friend Hida Nari were part of an unit led by Sozen that entered into

territory. They attacked and burned to the ground villages that had no strategic importance in retaliation for their attempts made on Kisada's life. It gave the Scorpion the opportunity to take their deserved punishment and felt no need to retaliate. It would made the peasants feel unprotected hurting its production. It was the beginning of the Crab-Scorpion War. [1]
Legion of the Jade Hand
Edit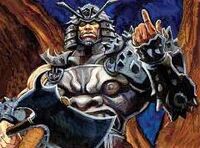 Rikyu became a member of the Legion of the Jade Hand. [2]
External Links
Edit
References
Ad blocker interference detected!
Wikia is a free-to-use site that makes money from advertising. We have a modified experience for viewers using ad blockers

Wikia is not accessible if you've made further modifications. Remove the custom ad blocker rule(s) and the page will load as expected.