Hida Osote was a bushi of the Crab Clan, who was appointed as a sensei for the new recruits.
Colonies
Edit
In 1198 the Kuni Daimyo Kuni Renyu ordered to remove everything of value from the regions in the Colonies claimed by the Crab, as these resources were needed urgently in Rokugan. Kaiu Okaru considered the task impossible, until Osote gave him a new worker, the massive berserker Hida Kaiji, who had been transformed in another being after he discovered an unknown artifact in the ruins of some temple. [1]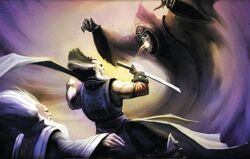 Osote became the yojimbo and apprentice of the new Grand Master of the Elements Naka Mahatsu. [2] In 1199 Osote defended his charge against a shadow-thing. [3] He was killed and the man once known as Shosuro Nishu was eventually found as his murderer. [4]
External Links
Edit
References
Ad blocker interference detected!
Wikia is a free-to-use site that makes money from advertising. We have a modified experience for viewers using ad blockers

Wikia is not accessible if you've made further modifications. Remove the custom ad blocker rule(s) and the page will load as expected.