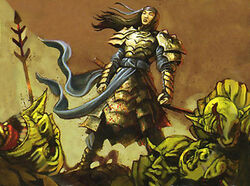 Hida Nari was a Crab Clan bushi.
The Wall
Edit
In 1167 Nari was stationed at the Kaiu Wall. [1]
Quest for Enlightenment
Edit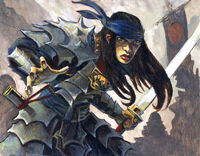 Nari wondered if she was destined only for violence. [2] Despite a chance encounter with the Keeper of Earth, Kaiu Sugimoto, Nari had achieved little in his quest for enlightenment. She desired something greater in life than constant death and war but thus far her path remained hidden from her. [3] Even talks with other enlightened men as Hida Sozen did not help Nari to answer her own questions. [1]
Crab Retaliation to the Scorpion
Edit
In 1168 Nari with her friend Hida Rikyu part of an unit led by Sozen that entered into
territory. They attacked and burned to the ground villages that had no strategic importance in retaliation for their attempts made on Kisada's life. It gave the Scorpion the opportunity to take their deserved punishment and felt no need to retaliate. It would made the peasants feel unprotected hurting its production. It was the beginning of the Crab-Scorpion War. [1]
External Links
Edit
References